Announcing the Winner of the 100th anniversary of the Turkish Republic, Competition: UFUK.M.K
In honor of the 100th anniversary of the Turkish Republic, Ideal Estates is thrilled to announce the winner of our captivating Social Media competition. The grand prize is an extraordinary painting of Ataturk, created with a unique blend of paints on canvas. What makes this painting truly exceptional is the inclusion of hand-made pigments extracted from various soil samples collected from different locations in Antalya Province. This artistic choice symbolizes the deep connection between Ataturk, the founder of the Turkish Republic, and the land of Turkey.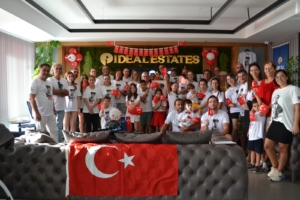 ---
Expressing Our Gratitude to 140 Participants
As the competition, "Exciting Social Media Competition to Celebrate the 100th Anniversary of the Turkish Republic," comes to a close, Ideal Estates would like to extend heartfelt thanks to the 140 individuals who participated and made this celebration even more special. Your enthusiasm and engagement have been remarkable, and we are truly grateful for your participation.
The 100th anniversary of the Turkish Republic is a significant milestone in our nation's history, and your active involvement in this competition showcases your deep appreciation for the values and principles it represents. We received entries from all over the world, underscoring the universal significance of this celebration.
We understand the effort and creativity that each of you put into your entries, and it was a challenging task to select a winner from such an outstanding group of participants. The response to the competition was overwhelming, and it is a testament to the enduring legacy of Ataturk and the Turkish Republic.
Announcing the Winner: UFUK.Mirac.K
After the draw on Sunday, October 29, we were excited to announce that UFUK.M.K. was the winner of the competition! We congratulate UFUK.M.K.'s entry for its creativity, passion, and deep connection to the Turkish Republic's centennial celebration. We were particularly impressed with his age of only 13, his thoughtful approach to the competition theme, and his exceptional use of knowledge to convey a profound message to each question.
UFUK.M.K., you have won the extraordinary painting of Ataturk, a masterpiece that reflects the values and spirit of Turkey.
To all the other participants, we appreciate your dedication and the time you dedicated to this competition. Your contributions were extraordinary, and we hope to see you participate in our future events and celebrations.
Once again, thank you for making the 100th anniversary of the Turkish Republic even more memorable with your participation. We look forward to celebrating many more milestones together.
We will publish Ufuk's answers to the 4 questions in tomorrow's social media posts. Once again, thank you all for your participation.